RSS, Tricolor and Bhagwa Dhwaj – 'Sangh closely associated with dignity of Tricolor since its birth'
"Our Sangh is self-dependent. Whatever we have to spend, we arrange it ourselves. We do not take even a single paisa from outside to run the organization. If someone brings it to us, we return it. The RSS is fully dependent on the Gurudakshina of Swayamsevaks. Every year, offerings are made to the Bhagwa Dhwaj, which is revered to be the Guru.
Why Bhagwa Dhwaj is the Guru? Because it is the symbol of our ageless tradition. Whenever history is quoted, the saffron flag has always been there. Even when it was to be decided that what should be the flag of independent India, the Flag Committee in its report recommended that the well-known and respected the Bhagwa Dhwaj should be the national flag.
Later, changes were made and the tricolour came. That is our national flag, we have the utmost respect for it. This question is also raised: Why Bhagwa Dhwaj is hoisted in Shakha and not the national flag?
The Sangh is closely associated with the dignity of the tricolour since its birth. Let me tell you about a true incident. After a decision to have the tricolour was taken, the symbol of charkha was on it and not the Ashok chakra at that time. This was hoisted for the first time at the Faizpur session of the Congress. The flag pole was 80 feet high. Nehru Ji was presiding over the session. The flag got stuck in between. Now no one had the courage to climb so high and fix it.
Suddenly, a young man came forward from the crowd. He ran forward, climbed the pole, untied the knots and raised the flag high and climbed down. Nehru ji patted him on the back and told him to come to the open session in the evening for felicitation. Then some Congress leaders went and told him that he shouldn't invite this young man as he goes to Shakha. Shri Kishan Singh Rajput, a resident of Jalgaon was the swayamsevak who did this. He passed away five-six years ago. When Dr. Hedgewar came to know, he travelled to meet him and gave him a silver metal pot to felicitate him. So ever since the tricolour was unfurled for the first time, the respect of Swayamsevaks is connected with it.
When Congress passed the resolution for Complete Independence for the first time in the Lahore session, Dr. Hedgewar issued a circular that all Shakhas should hold meetings to pass a resolution felicitating Congress and these resolutions should be sent to the Congress Committee. This happened in 1931. To get independence and attain utmost glory for the nation was Dr. Hedgewar's life's only aim. What else can be there in Sangh? That is why Swayamsevaks have been dedicated to all the symbols of independence with great reverence and respect. Nothing else can be talked in Sangh."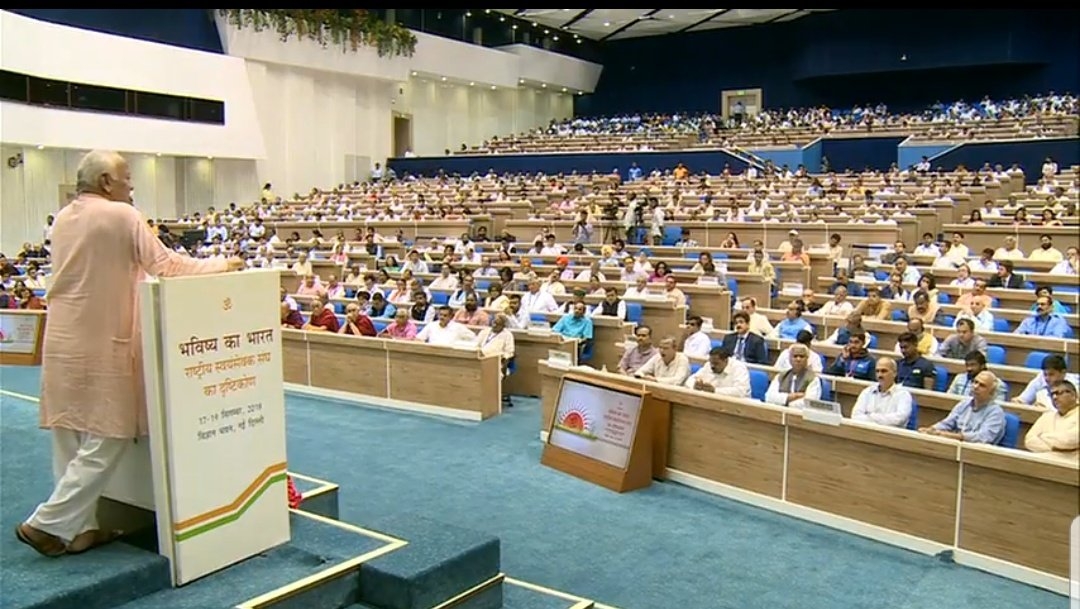 (RSS Sarsanghchalak Dr. Mohan Bhagwat, in his three-day lecture series in New Delhi, from September 17 to 19 (2018), narrated a story which underscores the Sangh's position on Tricolour and Bhagwa Dhwaj. "Bhavishya Ka Bharat", lecture series was held at Vigyan Bhavan, where Sarsanghachalak Ji presented the RSS' view on various contemporary issues of national importance.)vv