Thiruvananthapuram, Kerala (VSK). Kerala Congress President Sudhakaran says that, people from South Kerala are not trustworthy and are fraudsters and swindlers in nature. He continued by quoting a unreal imaginary instance from Ramayana.
In a recent interview with a newspaper, Kerala Pradesh Congress Committee (KPCC) President K. Sudhakaran openly insulted Bhagwan Shri Ram, Lakshman and Sita Mata. He demeaned the Hindu gods by making disgraceful comments and misinterpreting Ramayana.
In an interview to the New Indian Express, while answering "How different are the politicians of south Kerala and Malabar (North Kerala)?", Sudhakaran said, (Bhagwan) Lakshman thought of pushing (Bhagwan) Shri Ram to the sea and escaping with Sita (Mata) on the way back Ayodhya from Lanka.!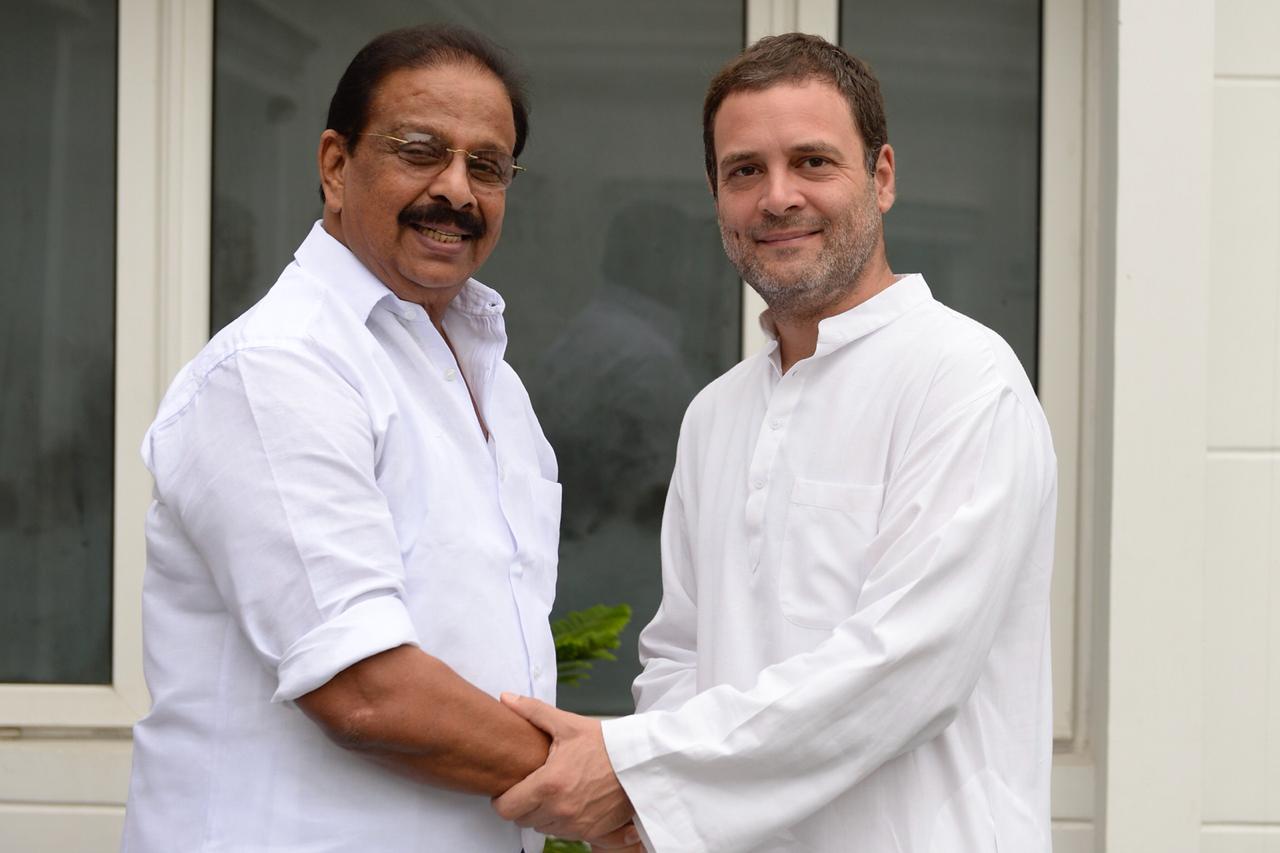 "Yes, there are historical differences. I will share a story. (Bhagwan) Ram returned from Lanka after killing Ravana, his brother (Bhagwan) Lakshman, and his wife (Sita Devi), in Pushpaka Vimanam. When the vimana entered the southern part of Kerala, Lakshman thought of pushing his brother to the sea and escaping with Sita. When he thought of the consequences, they had reached Thrissur, and he changed his mind and felt guilty. Sitting in a corner, Ram patted him on the shoulder and said, "Yes, I read your mind. It's not your fault. The fault lies with the land we covered…" Sudhakaran said.
The KPCC president stooped to new lows only to taunt his fellow Congress politicians from South Kerala and convey that they could not be trusted. Sudhakaran said that leaders from North Kerala are all straightforward, but that is not the case in South Kerala.
In the interview, Sudhakaran endorsed Mallikarjun Kharge as Congress President and called Shashi Tharoor a mere 'trainee' in politics. "Kharge is a leader who rose from the ranks. You cannot lead a party or understand the psychology of party workers through academic knowledge alone," he added.
He also said that it is impossible for Shashi Tharoor to lead the party, and it's like a trainee taking over the operations of a factory. "Organisationally, he is still a trainee. He is capable, there is no doubt. But he has not assumed any organisational role, not even of a booth president," said K Sudhakaran.
Meanwhile, the Congress leader's insulting remarks against Hindu gods have triggered a massive outrage on social media.